Meet andrew & Jeanne
We are Andrew & Jeanne Ward who live in Bridgton, Maine, which is the heart of western Maine's lakes region. We love living here and being able to enjoy the beautiful mountains and lakes.

Our woodworking journey began shortly after we got married in October 2002. At that time, we lived in Waldoboro, Maine, and resided in a small mobile home. We needed a storage area for our lawnmower and garden tools, so bought a skill saw and a drill to aid in the construction. This progressed into building steps for a family member and helping with miscellaneous tasks. Little did we know that this was the beginning of our woodworking journey.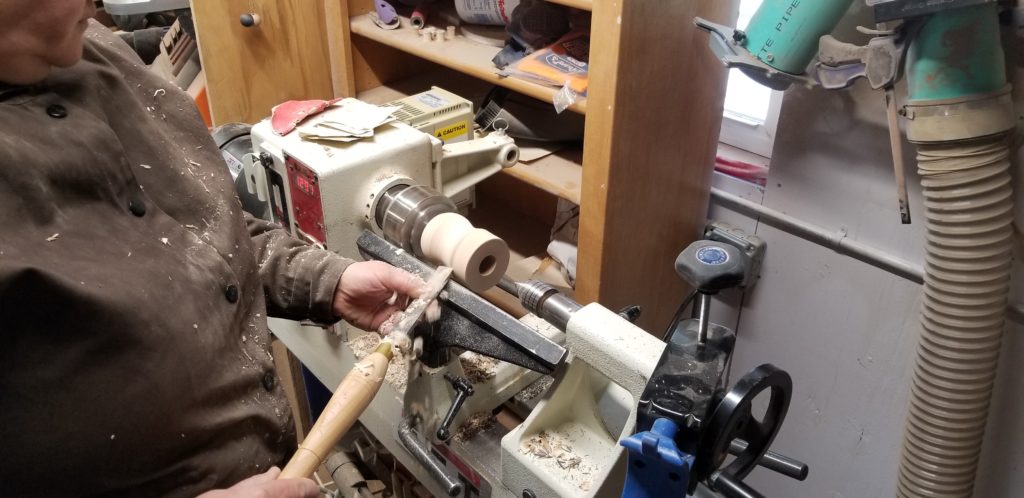 Due to a job promotion with Hannaford, we relocated to North Conway, New Hampshire. We began looking for a home and settled in the town of Bridgton, Maine, which is approximately 25 miles from North Conway. We began to make cutting boards out of our home's basement, which progressed into getting a lathe for a Christmas gift. That is when woodworking started to blossom in our lives. The lathe opened up so many wood product items we could make and sell. We then purchased a portable sawmill for milling our own lumber and for turning stock. This was a great addition to our woodworking endeavor. Since then we have milled over 100k board feet of lumber for both our own use and for others.

We have continued to grow, learn and create more products, as well as improve, adapt and change our woodworking strategies. We had grown to the point that the house basement workshop was not large enough, so purchased a building from Hill View Mini Barns here in Maine. This long-awaited upgrade was more than any woodworking tool could be. This gave us more space and dedicated tool locations, increasing productivity and product varieties.

It is amazing how far our woodworking business has advanced during the past 17 years. We look forward to many more years of creating beautiful wood products for you, our customer. Ward's Boards proudly provides its customers with top quality wood products.